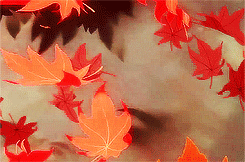 At the end of every bright and beaming summer season, the leaves go from their blissfully content green to vibrant reds, yellows, and oranges.  The leaves radiate high atop the forest canopy floor all the way to the bottom limbs of the trees.  Trees maintain their splendor all summer long soaking up warm long and sunny days. As the days lessen with sunlight, the tree stops producing food, thus allowing the colors of the leaves to change as they literally deplete the residual chlorophyll. Once the leaf is no longer full of nutrients, the cells within the leaf stem begin severing the tissues which hold the leaf to the tree until it falls almost poetically.
we can learn lessons from trees as the seasons change. Throughout our "high seasons" when things are going well, our bodies and spirits are being fed. We are being fed by positivity, success, love, etc.  At times as we are being fed we can become complacent.  We become so use to being comfortable, it can be easy to lose the focus of growth.  We can also become so uncomfortable that we begin to find COMFORT in the discomfort. We lose sight that the season will end.   We need to learn to shine our colors as we transition.  Two things are a definite in this life.  We all have been born, and we will die. In between our beings will go through tremendous seasons year after year of growth.  As we grow and form new limbs, we learn what parts of our lives are no longer being fed, and we have to learn to stop nourishing those leaf stems.
Cut the stems this fall. Show your colors. When leaves lose their nourishment as the season ends, they become intensely beautiful.  Leaves are most vulnerable when beauty is peaked.  
The gorgeous leafs life isn't over once its peaked and let go.  It finds a space to rest, to break down, and then to recreate itself in order to nourish further growth. Beautiful.  This season, shine brightly. Find your time to go through your layers of "cells and chlorophyll" that fuel your day to day routine.  Identify which leaves need to stop being fed, and which leaves are only beginning to become green.
You and I are part of a huge living and breathing planet. Nurture yourself this fall. Don't be afraid to become brilliant.  When you become brilliant, you can let go and learn what egos and fears to stop feeding, and discover the peace of the unknown.
Please reload